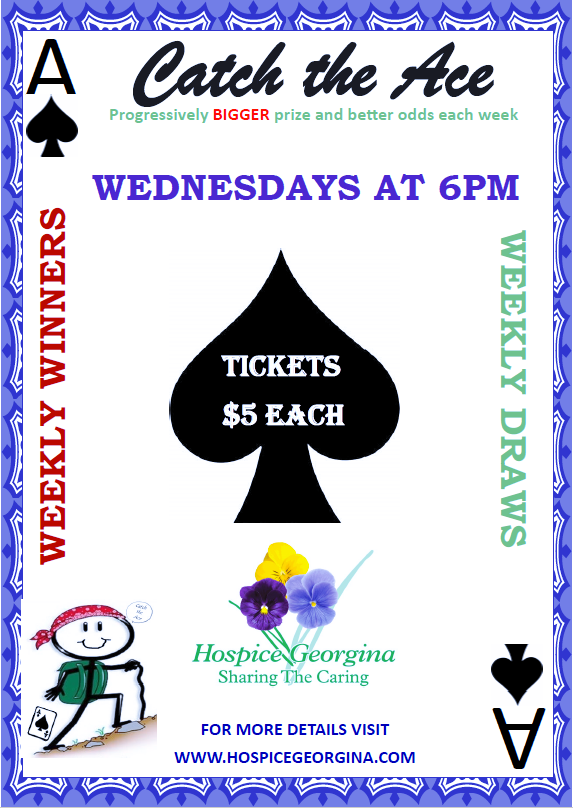 Our Jackpot this week is est. $12,180.00!
Ticket Sale Locations:
Mon-Thurs 8:30 - 4:30 pm at Hospice Georgina
Tuesdays 8-10 am at Black River Coffee
Wednesdays 1pm-4pm at Sutton Sobey's
Fridays 5-8 pm at Keswick Canadian Tire
Sundays at The Link 9-2
Week 1 Winner - Walter McWilliams - $111.00 picked #48 Queen of hearts
Week 2 Winner - Elaine Coates - $126.00 picked #15 Ace of clubs
Week 3 Winner - Chris Wood - $182.00 picked #11 2 of spades
Week 4 Winner - Glen Ulrich - $228.00 picked #23 6 of clubs
Week 5 Winner - Ashley Alexander - $160.00 picked #14 Jack of hearts
Week 6 Winner - Amanda Dolan - $275.00 picked #38 5 of hearts
Week 7 Winner - Ken Alexander - $203.00 picked #2 9 of hearts
Week 8 Winner - Charlotte Linders - $249.00 picked #22 7 of clubs
Week 9 Winner - Don Fernandes - $206.00 picked #29 Jack of clubs
Week 10 Winner - Michael Erb - $246.00 picked #37 Eight of clubs
Week 11 Winner - Elaine Coates - $204.00 picked #50 five of diamonds
Week 12 Winner - Bruce Adkins - $300.00 picked #1 Ace of Diamonds
Week 13 Winner - Lynne Barrett - $332.00 picked #34 Seven of Spades
Week 14 Winner - Kathy Trollope - $263.00 picked #17 King of Spades
Week 15 Winner - Kris Hutchins - $296.00 picked #12 Nine of Clubs
Week 16 Winner - Nicole Dunphy- $305.00 picked #18 Eight of hearts
Week 17 Winner- Esther Giddings - $328.00 picked #32 Four of Spades
Week 18 Winner - Alberta Witiuk - $258.00 picked #26 King of Clubs
Week 19 Winner - Gale Jacklin - $286.00 Picked #8 Four of Diamonds
Week 20 Winner - Diane Preece - $325.00 Picked #35 Two of Clubs
Week 21 Winner - Lena Lychak - $393.00 Picked #10 King of Hearts
Week 22 Winner - Lois Boardman - $306.00 Picked #6 King of Diamonds
Week 23 Winner - Frank Franzizi - $295.00 Picked #42 Ten of Diamonds
Week 24 Winner - Glenn Ulrich - $363.00 Picked #7 Two of hearts
Week 25 Winner - Randy Novroski - $337.00 Picked #25 Eight of Diamonds
Week 26 Winner - Lynne Barrett - $379.00 Picked #43 Six of Spades
Week 27 Winner- Pegg Ann Nicholl - $394.00 Picked #3 Ten of Spades
Week 28 Winner - Lorne Corcoran - $405.00 Picked #20 King of Clubs

HOSPICE GEORGINA CATCH THE ACE RULES
Ticket purchasers must be 18 years of age or older and be in Ontario at the time of purchase

Ticket price is $5.00

Hospice Georgina reserve the right to limit the number of tickets sold per person

Weekly draws will be held Wednesday nights at 6:00 pm at Hospice Georgina, The Link 20849 Dalton Road, Unit C, Sutton West, Ontario L0E 1R0

Ticket sales will cease two hours before the draw except at the draw location.

One deck of 52 playing cards will be placed in individual envelopes and randomly numbered 1 to 52 inclusive and will be on display at the weekly draw

Purchaser must complete the ticket including name, telephone number, email address and envelope number from the list of available numbers on the Available Numbers Control Sheet.

The ticket purchaser is responsible for ensuring the ticket is filled out completely

The weekly winner shall be selected by drawing one ticket from a drum containing all of the tickets sold that week.

The person conducting the draw will then open the envelope corresponding to the number noted on the selected ticket. If the envelope does not contain the Ace of Spades the envelope and the card will be destroyed. The weekly winner will receive 20% of the weeks ticket sales. If the envelope contains the Ace of Spades the winner will receive the value of the Ace of Spades pool and 20% of the weeks ticket sales. Once the Ace of Spades is selected the lottery ends.

In the event the ticket purchaser failed to enter an envelope number on the ticket, the person conducting the draw will select the lowest even number envelope. In the event there is no even number envelope then the lowest uneven numbered envelope shall be selected.

In the event the envelope number listed on the ticket has already been selected in a previous draw, the next highest number will be selected.

Tickets are only valid for the draw they were purchased for.

All draws will be video recorded to guarantee the integrity of the draw
It is specially provided that in the event of dissolution or winding-up of the Corporation, all of its remaining assets after payment of its liabilities, that all lottery funds shall be distributed to one or more recognized charitable organizations in Ontario, upon approval from the lottery licensing authority.
The Ontario Problem Gambling telephone number is: 1-888-230-3505